This website will help you find the right microphone for your use case. First you should watch the video that will walk you through the workflow chart to the right. This process will help you arrive at what type of microphone type will best fit your use case. Following that exercise, I have provided a list of my recommended microphones by category below to help you narrow down your selection even further.
The recommendations list is not an exhaustive list, and there are many more options. I simply feel that it would be disingenuous of me to recommend microphones that I have not personally used or reviewed on the Podcastage YouTube Channel.
Below are my recommendations for microphones that fall into the general categories discussed above. I have also included some audio interfaces that I think are great options.
CARDIOID DYNAMIC MICROPHONES
CARDIOID DYNAMIC
Electro Voice RE20 - $450
Buy the mic: http://geni.us/re20
The RE20 is a flat dynamic mic that offers an extended high end, a full low end, and does a good job rejecting background noise. It does tend to be a bit sibilant and can sound a bit recessed in the mids.
Shure SM7b - $400
Buy the mic: http://geni.us/shuresm7b
The SM7b is a relatively flat sounding microphone that has a dark and smooth tone. Some people think it sounds too muffled, and it rejects less ambient noise.
Beyerdynamic M201 TG - $300
Buy the mic: http://geni.us/M201
This mic is quickly becoming one of my favorites. It has a detailed high end without sounding sibilant, and a nice full and warm low end. It does require good microphone technique as it can get boomy and it doesn't do great at rejecting plosives.
Rode Procaster - $230
Buy the mic: http://geni.us/rodepro
The procaster has a broad boost in the presence region of the mic, with a roll off of the air. This allows for a very clear spoken word recording. However, this mic can be considered somewhat dark, and there are complaints that it's not the best at rejecting plosives.
Shure SM57/58 - $100
Buy the SM57 http://geni.us/sm57
Buy the SM58: http://geni.us/sm58
The SM57 mixed with the A81WS windscreen can get you a tone that is very similar to the SM7b. The SM58 is a workhorse that you cannot go wrong with.
Audio Technica ATR2100USB - $80
Buy the mic: http://geni.us/2100usb
The ATR2100USB & AT2005USB are nearly identical and they two of the most popular XLR/USB Dynamic mics on the market. They are a great starting off point, but offer a slightly nasal tone. They also lack a little bit of detail in the higher frequencies.
Samson Q2u - $60
Buy the mic: http://geni.us/samq2u
This is my most recommended microphone. It offers XLR & USB so there's a clear upgrade path, it offers more clarity in the high end, and sounds less nasally than the ATR2100USB. However, this mic can suffer from some slight issues with sibilance.
Behringer XM8500 - $20
Buy the mic: http://geni.us/xm8500
For $20, the Behringer is far better than it has any right to be. It offers a good amount of clarity, and sounds rather full in the low end. It can sound boomy and muddy if you're close to the mic, and it also does not do a great job at plosive rejection.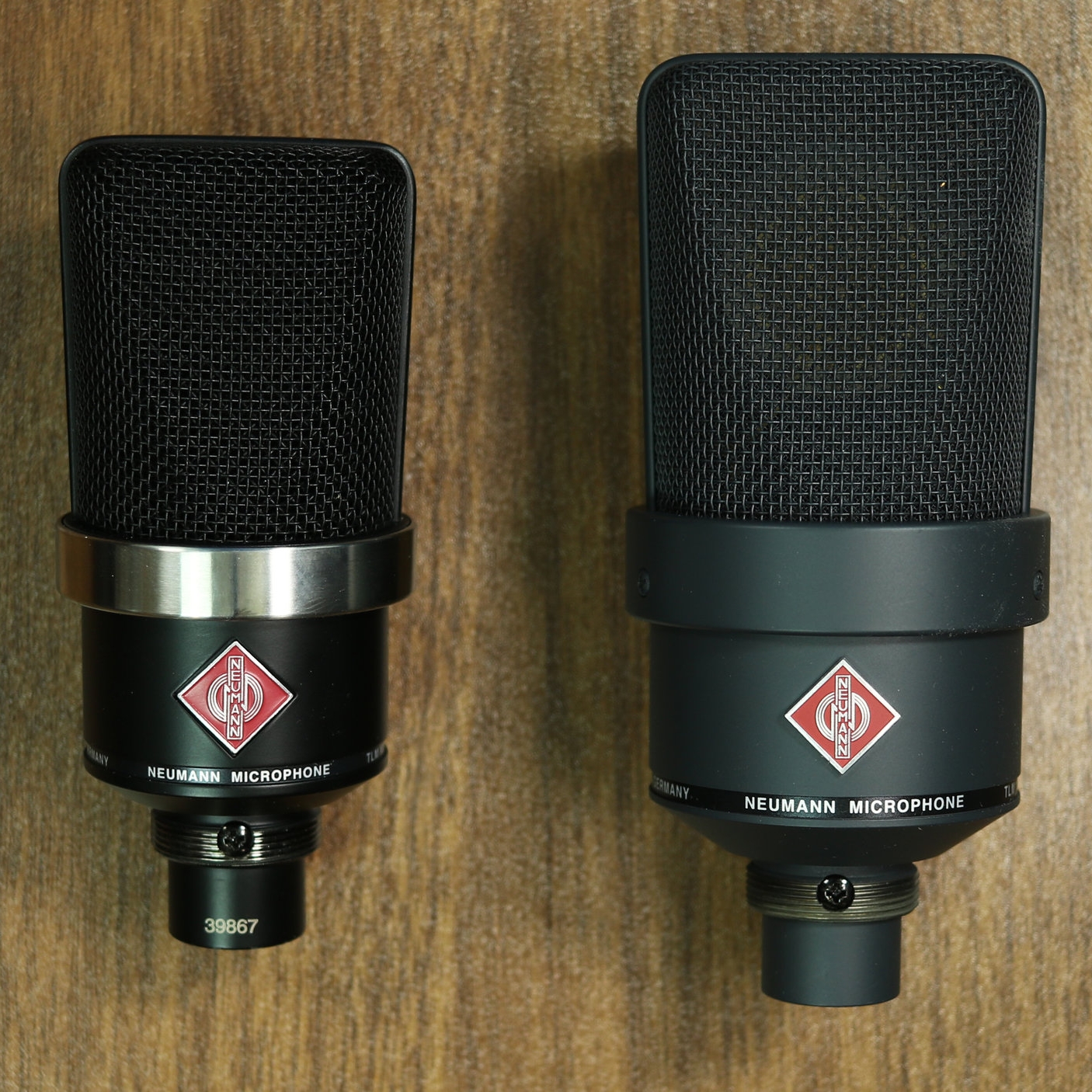 CARDIOID CONDENSER MICROPHONES
CARDIOID CONDENSER
Neumann TLM103 - $1100
Buy the mic: http://geni.us/ntlm103
The TLM103 is a staple in the voice over market, and with good reason. It offers a presence boosted sound with a buttery smooth low end. It has exceptionally detail and capture voice beautifully. This microphone can sound a bit nasally for spoken word though.
Neumann TLM102 - $700
Buy the mic: http://geni.us/ntlm102
The TLM102 offers the same great low end as the 103, but it's presence boost begins at around 6kHz compared to 5kHz for the 103. Due to this shift, the tone is slightly less nasally, while maintaining the beautiful detail. However, this microphone can be plagued with some sibilance issues,
Rode Broadcaster - $420
Buy the mic: http://geni.us/rodebroad
The Broadcaster is not a condenser mic for singing. It's a condenser microphone for those broadcasters & podcasters who want a slightly extended frequency response to capture all the nuances of your voice as well as have a more open sounding recording.
Blue Baby Bottle - $400
Buy the mic: http://geni.us/babybottle
If you're looking for a flatter more vintage sounding singing mic, this is a killer. It's also probably my favorite microphone from Blue. It has a warmer low end and an extended high end without sounding top heavy.
Audio Technica AT4040 - $300
Buy the mic: http://geni.us/at4040
The AT4040 is a very airy sounding microphone. It has a full 20hz - 20kHz frequency response, and offers plenty of detail, but it has a narrow boost that leads to an airy or breathy tone. It's still an excellent sounding microphone.
Sennheiser MK4 - $300
Buy the mic: http://geni.us/sennmk4
If you were unaware, Sennheiser owns Neumann, and if you want that sweet Neumann sound you'd get from the TLM102 or 103, but can't stomach the price tag, this is a GREAT alternative.
Rode NT1 - $270
Buy the mic: http://geni.us/rodent1
The NT1 is probably my favorite condenser microphone sub $700. This is an extremely flat microphone with one of the lowest self noises on the market. If you're looking for an uncolored, natural sounding mic, without having to worry about excessive self noise, this is the mic for you.
Audio Technica AT2035 - $150
Buy the mic: http://geni.us/at2035
The AT2035 is a great starting point to get into the true condenser XLR market. It offers a relatively bright tone, and a decent amount of body in the low end.
Blue Yeti - $130
Buy the mic: http://geni.us/byeti
This microphone is a great option if you're recording music and need multiple polar patterns. I do NOT recommend this for podcasting in an untreated room, or for micing up multiple people sitting around a table, if audio quality is at all important to you.
Samson C01U Pro - $100
Buy the mic: http://geni.us/c01upro
The c01u Pro won my best USB microphone under $100 comparison, and it's because it sounds great for the price.
Neewer NW7000- ~$17
Buy the mic: http://geni.us/nw7000
These microphones are all so similar it's hard to pick one that wins. They sound pretty good considering their price point and the fact that they are electret condensers. I ONLY recommend these if you're connecting them using an XLR to XLR cable into a USB Audio Interface.
SHOTGUN / LAVALIER MICROPHONES
SHOTGUN/LAV MICS
Sennheiser MKH416 - $1000
Buy the mic: http://geni.us/mkh4161
The MKH416 is a staple for use as a shotgun microphone as well as a voice over microphone. It has a very flat mids section, and a broad boost in the treble and air frequencies to give it clarity and openness. You can also get a large boomy announcer voice if you utilize the proximity effect.
Audio Technica AT875R - $170
Buy the mic: http://geni.us/at875r
The AT875r is a relatively budget shotgun microphone, but it doesn't show it that much. It doesn't have as large of a low end as the MKH416, but it has a similar treble and air boost which adds clarity. You can improve the lowend if you use it within a few inches of your mouth.
Rode Smart Lav+ - $64
Buy the mic: http://geni.us/smartlava
This is a good sounding lavalier microphone that has a TRRS 3.5mm jack. So if you're planning on plugging this into a dedicated microphone jack you will need a TRRS to TRS adapter.
Neewer Lav Mic - $9
Buy the mic: http://geni.us/neewerlav
This is one of the cheapest lav mics you can find. It used to be $9 for a 3-pack, but it now costs $9.00 for a single, or $21.00 for a three pack. Is it the best sounding lav? No. Is it built very well? No. Will it last you long? No. But it's very cheap, and it gets the job done.
audio interfaces
Arturia Audio Fuse - $600
Buy the int.: http://geni.us/audiofuse
The Audio Fuse is a beast of an interface with so much I/O that you'll struggle to find anything you can't use it for. It has insanely clean preamps with up to 76dB of gain, capable of driving even the most gain hungry microphone.
Universal Audio Arrow - $500
Buy the int.: http://geni.us/uaarrow
This interface has become my daily driver. It is a Thunderbolt 3 interface with two microphone pres. What really sets this apart is the plugin ecosystem. Universal Audio makes some of the best plugin emulations out there, and you get to use them with this interface. I've become 100% reliant on those plugins, so if you have a thunderbolt 3 plug, I'd highly recommend this.
Audient ID4 - $200
Buy the int.: http://geni.us/audientid4
The ID4 has some of the nicest sounding preamps and D.I. inputs that I've heard on any interface. On top of that it's beautifully designed, and it offers you up to 58dB of gain, with an insanely low noise floor.
Yamaha MG10XU - $200
Buy the int.: http://geni.us/mg10xu
This mixer offers a stereo output, so you're not going to be able to multitrack, but during my testing phase, I fell in love with this thing as it is so convenient to be able to easily mix computer playback, and up to 4 mics together into a stereo mix. It also has some fairly respectable preamps and it has some fun effects to play with.
Focusrite Scarlett 2i2 - $150
Buy the int.: http://geni.us/2i22nd
I have included this because it's a great jumping off point for anyone who wants to improve their interface. It has decently clean preamps, a great build quality, zero latency monitoring, and it sounds great. This is the interface I use in nearly all of my reviews because it's a perfect middle of the road interface.
Behringer UMC202HD - $60
Buy the int.: http://geni.us/umc202hd
There are cheaper Behringer interfaces on the market, but the reason I selected this one is because I think every podcaster should be recording in 24-bit 48kHz. This is probably the cheapest interface that will get you that spec, and it offers around 60dB of gain with it's Midas preamps.